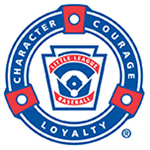 Notes:
Seeding will be done by regular season record as of June 3rd.

The last game in the Majors brackets is an 'IF' game (only necessary if the team from the losers bracket wins the previous game).

Field locations listed are place holders only. Once the brackets are seeded, the upper (home) team in each game in the bracket will be offered the chance to host the game provided they have field and umpires available (except for double header games which need to stay with the game before). If the home team chooses not to host then the lower (visiting) team can choose to host the game.